Young talent award for interdisciplinarity and academic excellence
BioSC Supervision Award

With the Supervision Award, the Bioeconomy Science Center (BioSC) honors young academics for outstanding achievements in the quality of their supervision of doctoral candidates. The award of the prizes is decided by a panel of experts consisting of renowned scientists on the basis of the nomination proposals submitted. All Coregroup and FocusLab heads as well as Coregroup and FocusLab PhD students are eligible to submit proposals. The winners will receive a prize of up to EUR 25,000 as well as a certificate at the BioSC Forum. The competition is part of the NRW strategy project BioSC.
Supervision Award 2018
The Supervision Award 2018 went to the young researcher Dr. Anita Loeschcke. Dr. Loeschcke is a member of the Institute of Molecular Enzyme Technology of the Heinrich-Heine-University Düsseldorf and is the leader of the BioSC FocusLab CombiCom. Dr. Loeschcke was nominated by three of her current PhD students and the nomination was supported by a couple of recommendation letters of former PhD students. Thus, because of her excellent and committing engagement for the interdisciplinary training of her PhD students, the referees decided to grant Dr. Anita Loeschcke this year's Supervision Award. She received the award, which is endowed with 25.000 €, during the 5th BioSC Forum.
Contact: BioSC Office, biosc@fz-juelich.de
Supervision Award
Dr. Anita Loeschcke


Institute for Molecular Enzymtechnology (IMET), Heinrich-Heine University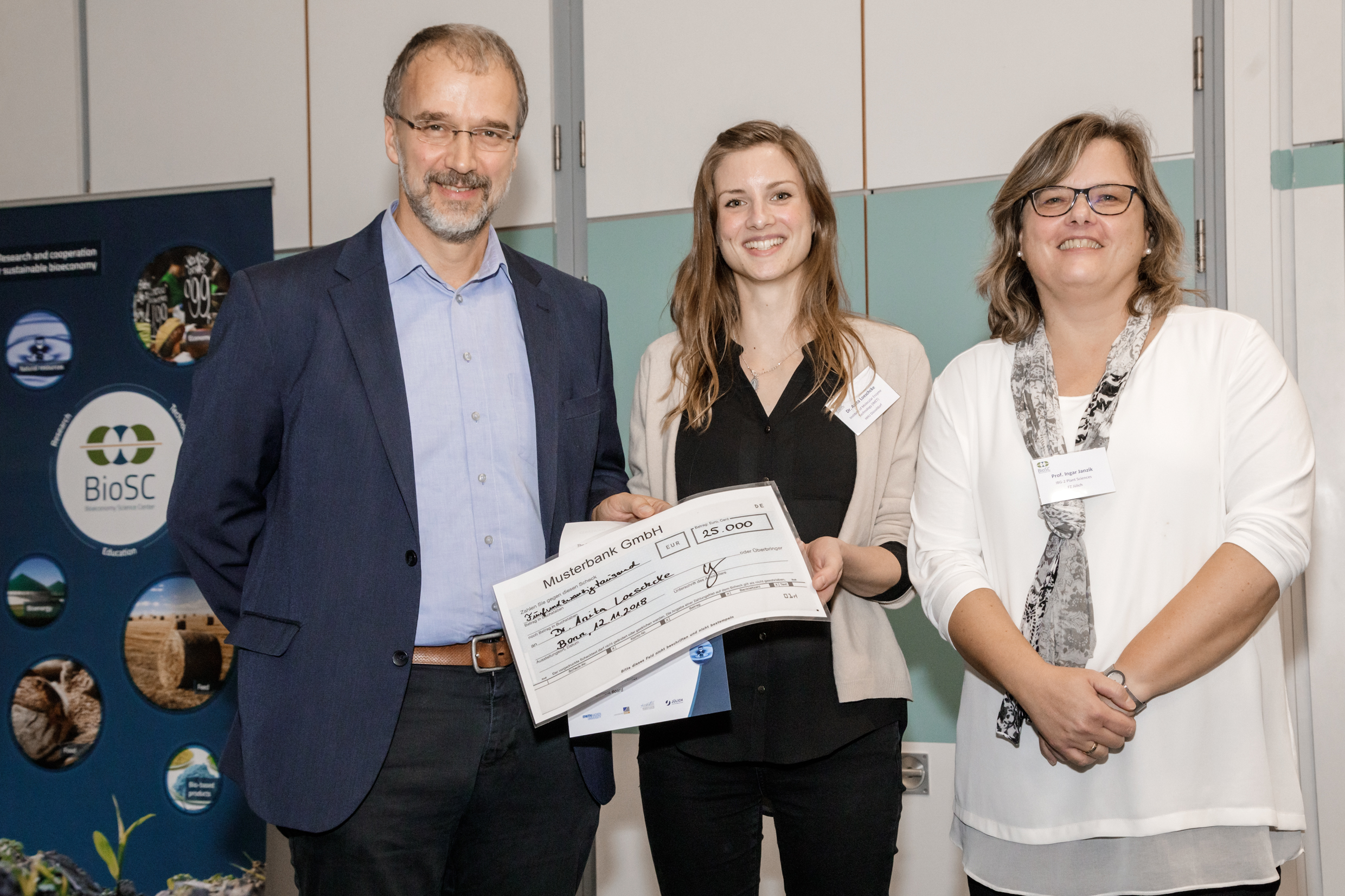 From left to right: Prof. Dr. Ulrich Schurr, Dr. Anita Loeschcke, Prof. Dr. Ingar Janzik