Information on Phase II
During this event you will receive comprehensive information regarding the 2nd phase of the "Strategieprojekt", the focus topics and the application procedure for the upcoming focus lab call. Furthermore, this event offers you an ideal oppourtunity to get to know potential cooperation partners for the upcoming BioSC focus topics.
At all four BioSC locations the same information will be provided. The information events will take place from 9-12 May. Please choose where you would like to participate.
Place and Date:
HHU Düsseldorf: 09.05.16,ULB auditorium
RWTH Aachen: 10.05.16, Worringerweg 2, Chemistry building, "Asinger-Lernzentrum"
FZ Jülich: 11.05.16, IBG-2, Building 6.2, Room 406
Universität Bonn: 12.05.16, ILR, Meckenheimer Allee 174, Room 1.008
Time: 4pm to approx. 7pm
Registration is closed. Please contact biosc@fz-juelich.de for any questions.
28. Mai 2015
HHU Düsseldorf
Das 5. BioSC Integrationsforum fand am 28. Mai 2015 in der Heinrich-Heine-Universität in Düsseldorf statt. Der Fokus lag auf dem Thema "Synthetische Lebenswissenschaften". Die Veranstaltung wurde von Prof. Michael Feldbrügge mit einem kurzen Einführungsvortrag eröffnet. Anschließend haben sich die verschiedenen Düsseldorfer Kernkompetenzen vorgestellt:
Structural Biology - Molecules, Mechanisms, Modifications (Prof. Heise, Prof. Gohlke, Prof. Groth, Prof. Schmitt, Prof. Willbold)
Sustainable biomass production in aquatic photosystems (Prof. Ebenhöh, Prof. Simon, Prof. Weber)
Next generation applications in microbiology (Prof. Feldbrügge, Prof. Jaeger)
Synthetic Bio(techno)logy (Prof. Urlacher, Prof. Jaeger, Prof. Pietruszka)
Nach den Vorträgen gab es geführte Touren durch Labore und Einrichtungen der verschiedenen Arbeitsgruppen. Im Anschluss fand bei Getränken und Snacks der persönliche Austausch der Teilnehmer statt. Das erste Integrationsforum am Standort Düsseldorf sollte zum einen zur Vorstellung der Düsseldorfer Kompetenzen dienen, zum anderen aber auch die Vernetzung im Hinblick auf zukünftige Ausschreibungen und die 2. Förderphase fördern.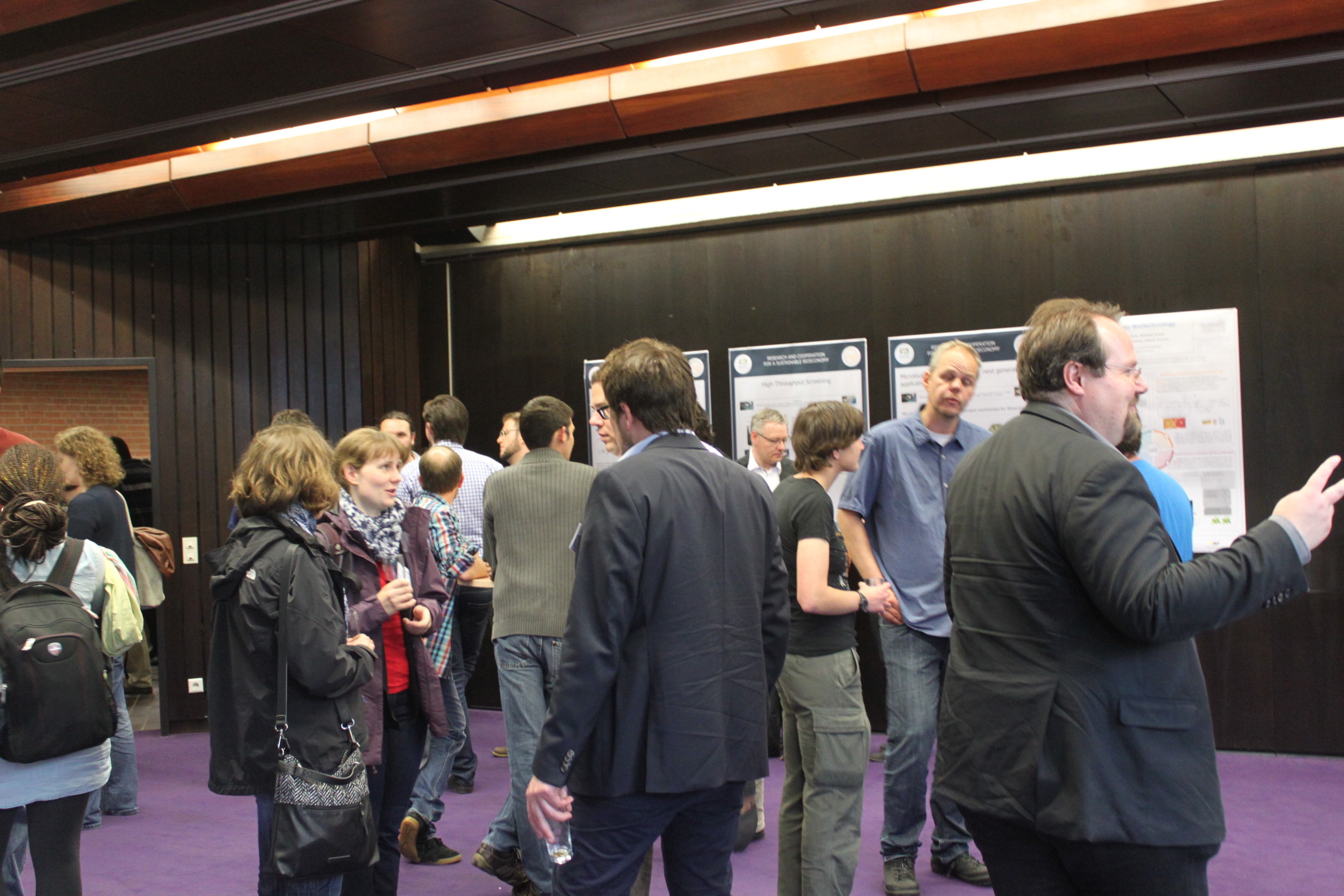 3. Februar 2015
RWTH Aachen
Am 3. Februar 2015 fand ein BioSC Integrationsforum zur weiteren Vernetzung der BioSC Partner statt. In den Räumlichkeiten der Aachener Verfahrenstechnik (AVT) wurde den Teilnehmern die Möglichkeit geboten, die Wissenschaftlerinnen und Wissenschaftler der AVT persönlich sowie wichtige Aktivitäten des Fachbereichs bzw. des Forschungsschwerpunkts "Verfahrenstechnik nachwachsender Rohstoffe" kennenzulernen; unter anderem wurde die Aktivitäten rund um die im Bau befindliche Bioraffinerie (NPG²) vorgestellt. Wie immer war auch ausreichend Zeit für persönliche Gespräche. Das Vernetzungsteffen diente im Besonderen auch der Anbahnung und Vorbereitung neuer Projektanträge im Rahmen der Calls für SEED FUND und BOOST FUND Projekte, dessen Einreichungsfrist Mitte März 2015 endete.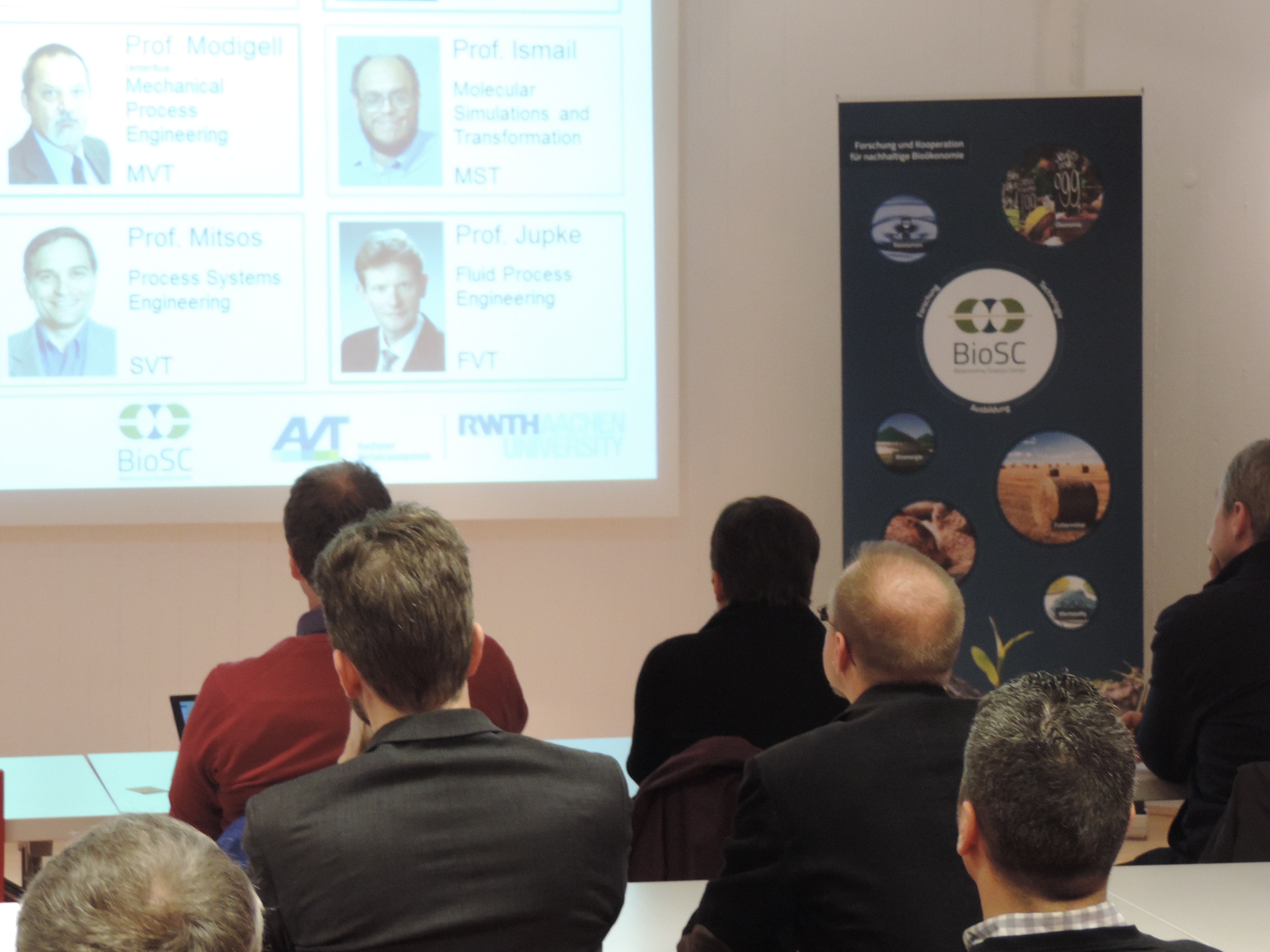 3. July 2014, Campus Klein-Altendorf
On July 3, 2014, more than 50 members of the BioSC met at the Klein-Altendorf Campus. The event focused on the presentation of the expertise from the Bonn location to develop new points of contact and ideas for joint project proposals for a sustainable bioeconomy. Due to the short time until the next tender for SEED FUND and BOOST FUND projects and to the last day for submission of SEED FUND applications, applicants will be given the opportunity to directly transform innovative ideas into concrete project proposals.
The Bonn core groups of the BioSC research areas Sustainable bioproduction and resource stewardship and Economic and social implications were represented in the integration forum. The portfolio was accordingly broad during the meeting:
Sustainable bioproduction and resource stewardshipo Cascade use of biomass plants – practical relevance for a sustainable bioeconomy strategy and necessary research (Pude core group
Controlled stress to promote yield and product quality | utilization of waste material from production (biomass utilization) (NOGA core group)
Glutathione-based detoxification and redox control | energy control in plants (Meyer core group)
Phosphate management in plants and bacteria | vegetable oils as renewable raw materials (Dörmann core group)
Recycling (P-containing material in particular), processes on leaf surfaces / leaf fertilization and trace nutrient supply (Goldbach core group)
Microbiology of soil and plant-associated bacteria (Knief core group)
Economic and social implications
Implementation of bioeconomy: Convergence, new value chains and technology acceptance (Bröring core group)
Economic analysis of operational cultivation and investment decisions, risk analysis and risk management (Finger core group)
Representatives from all BioSC locations and main research areas attended, so that an interdisciplinary and cross-location exchange was possible. Following the discussions, field visits included different experiments and the wood chip heating system at the Klein-Altendorf Campus.
An attractive venue and themes are still being sought for the next BioSC integration forum. If you are interested in the holding such an event at your own site, please feel free to contact the BioSC office at any time.
In addition, theme suggestions for integration forums (and other event formats) are always welcome.
Email: biosc@fz-juelich.de
6. November 2013
RWTH Aachen
Themenfelder
Sekundärmetabolite
Biomassekonversion/Lignin/Lignozellulose
Biomassekonversion aus ökonomischer Perspektive
Rechnergestützte Analyse von Biomasseabbau
11. September 2013
Forschungszentrum Jülich