18. BioSC Lecture
Forschungszentrum Jülich

"The forest- and plant-based bioeconomy – opportunities for cooperation"
4th of August 2017, 11:30 am

Forschungszentrum Jülich in the seminar room of the IBG-2 (R406, Building 6.2)
The BioSC lecture on "Inspired by nature - Development of sustainable flavour modifiers" will be given on the 4th of August at Forschungszentrum Jülich by Dr. Jakob Ley, Director Ingredient Research Flavour & Nutrition at Symrise AG. Dr. Ley is group leader for the development of aroma and taste modulation compounds. His work includes identification, sensory evaluation, basic application trials, synthesis, isolation, purification and upscaling of natural compounds. Additionally Dr. Ley is responsible for the project coordination for basic research projects as well as for external contacts to research institutes and universities.

In his talk, Mr. Ley will focus on natural products that are useable for optimizing the flavour of food e.g. like sweet or bitter. After the talk, there will be time for discussion.
17. BioSC Lecture
Forschungszentrum Jülich

"The forest- and plant-based bioeconomy – opportunities for cooperation"
12th of May 2017, 1 pm

Forschungszentrum Jülich in the seminar room of the IBG-2 (R406, Building 6.2)
The BioSC lecture on "The forest- and plant-based bioeconomy-opportunities for cooperation" was given on the 12th of May at Forschungszentrum Jülich by Dr. Andreas Kleinschmit von Lengefeld, Director for research and innovation, FCBA (French Institute of Technology for forest-based and furniture sectors), Champs-sur-Marne, France. 30 participants heard an interesting talk with an intensive discussion. The presentation will come soon at the download area at the BioSC intranet.
Abstract:
Das französische, technische Institut FCBA, und seine Rolle in der forst-basierten Bioökonomie
Die Rolle des forst-basierten Sektors in der französischen Bio-Ökonomie nimmt stetig zu. Frankreich hat die viertgrößte Waldfläche in Europa, nach Schweden, Finnland und Spanien.
Seit der Gebietsreform 2016 ist die neue Region Aquitanien die Nummer eins in Europa für Wertschöpfung im forst-basierten Sektor. Die gesamte Waldfläche der Bundesrepublik Deutschland entspricht der Laubholzfläche in französischen Wäldern (>10 Mio ha). Zur Zeit werden von der französischen Politik, welche diesen Sektor als Zukunftsweisend in die Gruppe der 16 wichtigsten Industrien Frankreichs aufnahm, Programme für Forschung und Innovationen lanciert.
Priorisierte Themen, welche von allen wichtigen Akteuren des französischen forst-basierten Sektors gemeinsam entwickelt wurden, zeigen die Zukunft auf. Das technologische Institut FCBA (Forêt, Cellulose, Construction Bois, Ameublement) ist mit seiner Vielseitigkeit im Forschungs- und Entwicklungsbereich in Europa einzigartig. Es ist der einzige Akteur, welcher bei der biotechnologischen Verbesserung der forstlichen Biomasseproduktion beginnt. Von der Nano-bis zur Makrostruktur arbeitet, sowie die Sozio-ökonomischen und Umweltaspekte in seinen Aktivitäten einbindet. Der Kern der Forschungs-, Innovationsaktivitäten beginnen bei TRL 5 bis TRL9. Die verschiedenen Forschungsthemen und Disziplinen des FCBA werden vorgestellt, sowie Möglichkeiten für eventuell gemeinsame Forschungsvorhaben eruiert.
16. BioSC Lecture
Forschungszentrum Jülich

"The role of plant breeding in bioeconomy"
Dr. Léon Broers, Mitglied des Vorstands KWS SAAT SE, Einbeck und Mitglied des deutschen Bioökonomierates

The BioSC Lecture "The role of plant breeding in bioeconomy" attracted many people to participate on the 15th of March at Forschungszentrum Jülich.
The demand for bio-based raw materials will significantly increase. At the same time, we are facing a range of environmental challenges like climate change accompanied with more increasingly frequent extreme weather events, and the shortage of basic resources. Plant breeding is able to address these challenges by providing varieties that have higher and stable yields, better adaptability to different growth and environmental conditions as well as reduced requirements for resources. Thus, plant breeding plays a key role in a Bioeconomy that aims to achieve efficient and resource-friendly production and use of biological resources by taking into account societal perceptions of demand.
The presentation is accessible in our intranet.
15. BioSC Lecture
Forschungszentrum Jülich

"Socioeconomic questions in the bioeconomy"
The view of the Bio-Economy Council on bioeconomy and Presentation of the Center for Development Research
Prof. Dr. Joachim von Braun, Chair of the Bio-Economy Council and Director of the Center for Development Research (ZEF), University of Bonn
Research for sustainability governance in the bioeconomy
Jun.-Prof. Jan Börner, Center for Development Research (ZEF), University of Bonn
Bio-based economic transformation is a potential pathway towards sustainable development including many of the Agenda 2030 SDG. And yet, the conditions under which a growing bioeconomy can help to achieve sustainable development goals are not well understood. This presentation discusses elements and early results of an interdisciplinary research program aimed at developing appropriate multi-scale governance frameworks for sustainable bioeconomic development. We focus on two key drivers of bioeconomic growth: (1) Policies and measures that promote or regulate the use of bio-based food, feed, fuel, and fiber; and (2) technological innovation in biomass producing and processing sectors. Quantitative empirical tools from economics, environmental geography, and biology are key to understanding how these drivers lead to positive or negative socio-economic and environmental outcomes at local scales.
14. BioSC Lecture
Universität Bonn

"Potentiale und ökosystemare Dienstleistungen von Nachwachsenden Rohstoffen"
Dr. Markus Schorling, Universität Hamburg, Forschungsschwerpunkt Biotechnik, Gesellschaft und Umwelt (FSP BIOGUM)
Dr. Schorling ist seit 2009 am Forschungsschwerpunkt Biotechnik, Gesellschaft und Umwelt (BIOGUM) der Universität Hamburg tätig. In seinen Forschungsvorhaben verbindet er die Biomasseforschung und Biotechnologie mit aktuellen gesellschaftlichen Fragestellung. Er ist bzw. war unter anderem beteiligt an Forschungsprojekten "BioEnergie 2021 - Forschung für die Nutzung von Biomasse", "Biotechnologie - Chancen nutzen und gestalten", "Potentiale der Gentechnik bei Energiepflanzen" oder "Grundlagenforschung Energie 2020+". In seinem Vortrag wird er die möglichen Nutzungspotenziale von Nachwachsenden Rohstoffen und insbesondere deren ökosystemaren Dienstleitungen im gesellschaftlichen Kontext darstellen.
13. BioSC Lecture
HHU Düssseldorf

"Protein stability engineering as a workhorse for a sustainable bioeconomy"
Dr. Jens Erik Nielsen, Director, HTS and Design, Novozymes A/S

The talk by Dr. Nielsen provided insights into the challenges of enzyme design for washing powder in the context of a sustainable bioeconomy. While washing at low temperatures is better for the environment, surveys showed that consumers doubt that washing at cold temperatures is efficient. Storage conditions at industry scale and for household application have to be taken into account for enzyme design.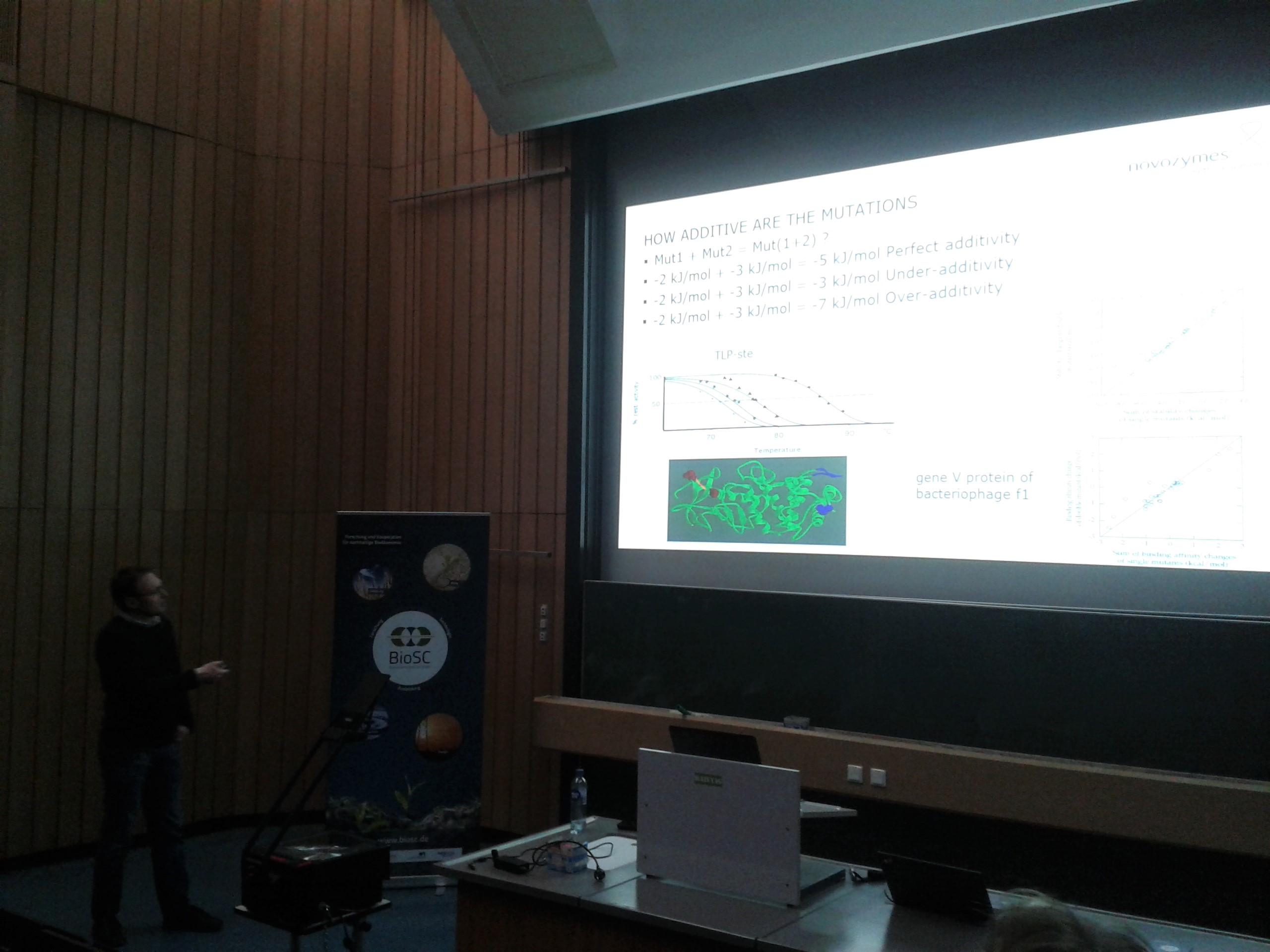 Enzymes are among the most efficient and specific catalysts known, and are applied widely in industrial processes and household applications. However, enzymes are by nature meta-stable compounds that have to occupy an ordered folded state to be catalytically active. The successful application and competitiveness of enzymes therefore depends on the extent to which enzymes are able to maintain this folded conformation in the industrial/household application and under storage conditions. Jens Nielsen, who has 25 years of research experience in protein analysis and design, discussed different strategies for stabilizing enzymes and highlight current research at Novozymes at producing enzymes that are stable against a number of harsh conditions.
12. BioSC Lecture
"Food Security in the context of bioeconomy."
Dr. Nicole Schönleber, CEO, Food Security Center, University of Hohenheim
The seminar provided an overview of the research and educational objectives of the Food Security Center in the context of (global) strategies on bioeconomy. Food Security is one of the major objectives of bioeconomy. The FSC mission is to provide innovative and effective scientific contributions to reduce hunger and achieve food security, contributing towards the SDG 1 and 2, especially towards the eradication of hunger and malnutrition. Achieving this mission requires careful analysis and science-supported identification of effective and efficient policy, technical and institutional responses, including impact assessment. The Food Security Center utilizes a multidisciplinary approach through teaching, conducting research and providing policy advice in cooperation with national and international development organizations and partner Higher Education Institutes in the developing world. Research topics include biomass and food availability, food access, biomass and food use, food quality and safety, giving particular concern to gender equality and sustainability of agricultural production..
19. January 2016
Forschungszentrum Jülich
"Bioeconomy: opportunities for collaboration with Costa Rica"
Keilor Rojas, PhD, former Vice minister in the Ministry of Science, Technology and Telecommunications of Costa Rica, currently Universidad Latina de Costa Rica and Biotech Entrepreneur (https://www.linkedin.com/in/keilor-rojas-28b6571a )
Abstract:
The seminar will provide a broad overview of the academic and research sector in Costa Rica (especially in bioeconomy) and show possibilities of interaction with national institutions in more specific fields such as biodiversity, environment, biotechnology and forestry.
27. November 2015
Forschungszentrum Jülich

"Bioeconomy in the Thai Context"
Dr. Sakarindr Bhumiratana, President of King Mongkut's University of Technology Thonburi, Bangkok
"Overview of Thai Cassava industry"
Prof. Morakot Tanticharoen, National Science and Technology Development Agency (NSTDA), Thailand
Here you find more information about this lecture.
Biography:
Dr. Sakarindr Bhumiratana is currently President of King Mongkut's University of Technology Thonburi (KMUTT). He was appointed the Executive Director of the National Center for Genetic Engineering and Biotechnology in 1991, where he served for a period of ten years before returning as Senior Vice President for Academic Affairs at KMUTT from 2000-2004. He was then appointed as President of the National Science
and Technology Development Agency, where he served until 2010. Dr. Sakarindr has just been recognized as Distinguished Fellow of the Petroleum Institute of Thailand, 2012. He was a recipient of the ASEAN Meritorious Service Award in 2005 and was accepted as a Fellow of the International Academy of Food
Science and Technology in 2006. He is currently a member of the National Economic and Social Development Board, the Science, Technology and Innovation Policy Agency, the National Science and Technology Development Board, as well as various other university councils.
Dr. Sakarindr has a keen interest in applying technology and innovation to improve the quality of life of rural communities and is active in many projects in this area. His research interests extend to systems biology, industrial biogas development and transport phenomena of food and biological materials. He has published extensively on both technical and policy issues affecting higher education and research.
Professor Morakot is a leading researcher in Thailand in the field of microbiology
and biotechnology. Her specialty includes research and development of an anaerobic wastewater treatment for biogas production and algal technology research, and she is also a pioneer in biosensor research in Thailand. She is also well recognized for her involvement at the regional and international level, being an active member and working on the executive of several societies and organizations, as well as serving on
the editorial board of a number of noted international journals. Morakot was BIOTEC Director from 2000 –
2008. During her directorship, she also served as Chairman of the ASEAN Sub-Committee on Biotechnology (SCB), from 2005-2008.
At present, Morakot is the chairman of NSTDA's Agricultural and Food Cluster and the senior advisor to NSTDA President. She also serves as the Professor Emeritus at the School of Bioresources and Technology, KMUTT
30. Juni 2015
University of Bonn
"Bioeconomy in Canada"
Prof. Dr. L. Martin Cloutier, Department of Management and Technology, School of Management, University of Quebec at Montreal, Canada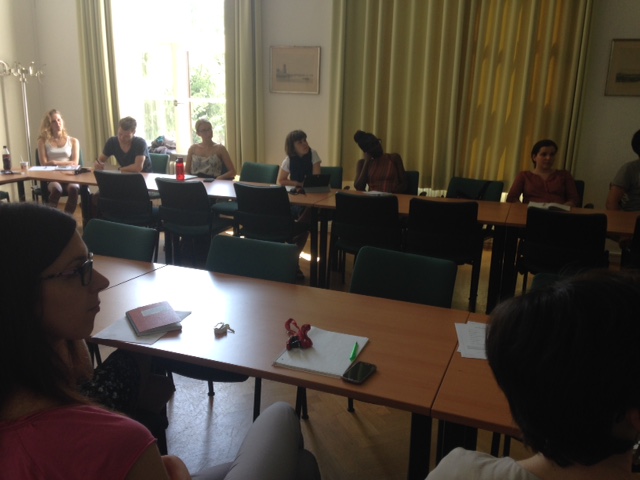 Abstract
The seminar presentation was splited into two parts. The first part presented a landscape overview of the bioeconomy sector in Canada. The second part reported on preliminary results of the research project conducted at the U. of Bonn on the drivers of the emerging value chains in the bioeconomy using a participatory group concept mapping, a mixed-methods approach. Early findings will indicate the main concepts at play uncovered by the group of participants, measures of consensus, highlight value-creating and feasibility ranking of identified drivers.
Prof. Dr. Martin Cloutier, is a professor in the Department of Management and Technology, School of Management, University of Quebec at Montreal (Canada). He is specializing his research program on group decision making in many contexts using mixed methods and design science research methods; including value chain coordination and modeling in the bioeconomy, and agriculture and food processing. His recent work has also included the identification of initiatives to be undertaken collectively by stakeholders to develop the distribution of health enhancing foods in Canada.
16. Juni 2015
Universitity of Bonn
"Fermentative Produktion von enantiomeren-reinen Wirkstoffen - Paradigmenwechsel für pharmazeutische und chemische Produktionsprozesse"
Dr. Peter Welters, Manager Phytowelt GreenTechnologies GmbH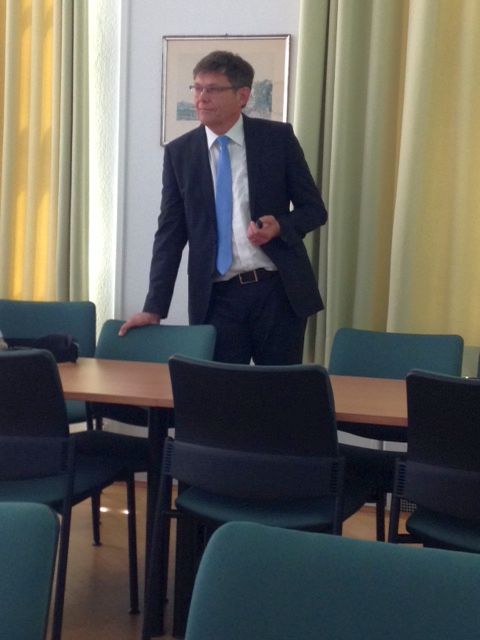 9. Juni 2015
University of Bonn

How to move from waste streams to value-added novel food ingredients? An assessment from a legal perspective
Dr. Markus Grube, KWG Rechtsanwälte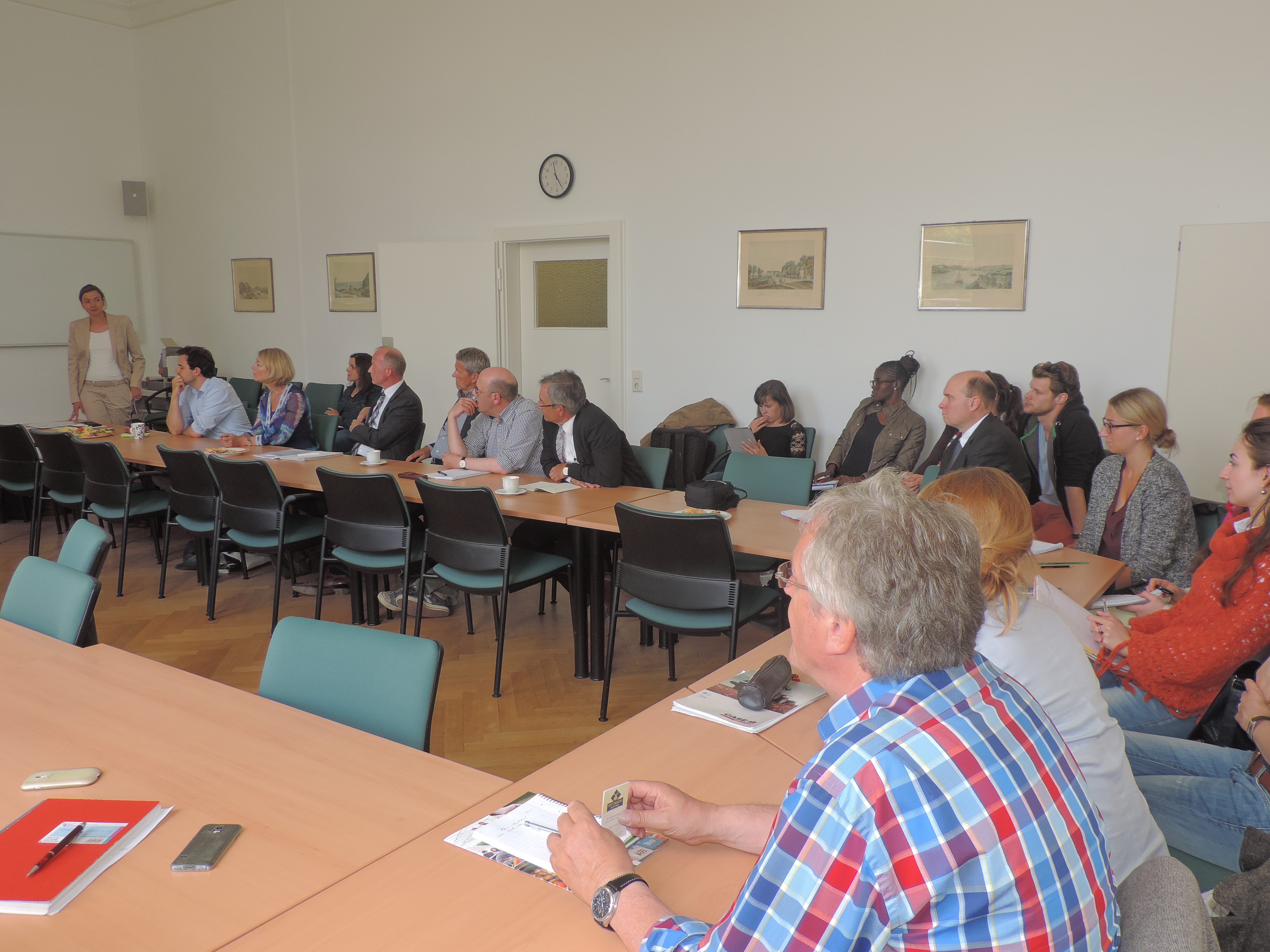 14. März 2015
RWTH Aachen
Advances in enzymatic processing of biomass
Prof. Dr. Claus Felby, Biomass and Bioenergy, Faculty of Science, University of Copenhagen
During the last decade the development in enzyme technology has advanced the processing of lignocellulosic biomass to fermentable C6 and C5 sugars. However, biomass is not just carbohydrate polymers, and by studying the whole system of the cell wall matrix, enzyme protein and water; new insights into the mechanisms of biomass deconstruction has been obtained.
Application of this knowledge at the large scale could preferably be implemented in existing infrastructures of agriculture and forestry. An example is the Danish +10 mio tons study which shows how existing agriculture and forestry can be adapted to a higher biomass production without compromising environmental issues or biodiversity.

Short Biography
Prof. Dr. Claus Felby graduated in Forestry and received his PhD in 1997 in Wood technology at the Royal Veterinary and Agricultural University in Denmark. Since 20 years he has worked with biomass and biotechnology within both private industry and academia. Following his PhD, Prof. Dr. Claus Felby worked as a research chemist in the biotech industry before returning to academia in 2001. Currently he is heading the Biomass for the 21st Century research platform on advanced biorefinery technologies funded by the Danish Advanced Technology Foundation. Prof. Claus Felby received the Bayer Crop Science Innovation award (2007) as well as the Faculty of Science Innovation award (2014) by the University of Copenhagen.
13. November 2014
University of Bonn

Renewable Ressources – The great heart of bioeconomy
Speaker: Prof. Wulf Diepenbrock
11. Juli 2014
Forschungszentrum Jülich
Low-cost shale gas - Burying a young bioeconomy?
Referent: Prof. Kurt Wagemann, Dechema e.V.
Bioeconomy is a must - definitely in the long term!
But what about the short and medium term production of chemicals and polymers? Is there a more or less continuous shift away from coal to petroleum (up to now), to renewable, plant-based raw materials? Which role will natural gas and coal play in the nearer future?
The lecture will address several effects of cheap shale gas exploited via fracking: Decreasing prices for methane and ethylene and expectations on increasing prices for C3-, C4-, C5-base chemicals and aromatics.
In the end there is not just one answer; answers will have to be differentiated depending on the desired functionality of the molecule as well as the behaviour of end producers, retailers and consumers.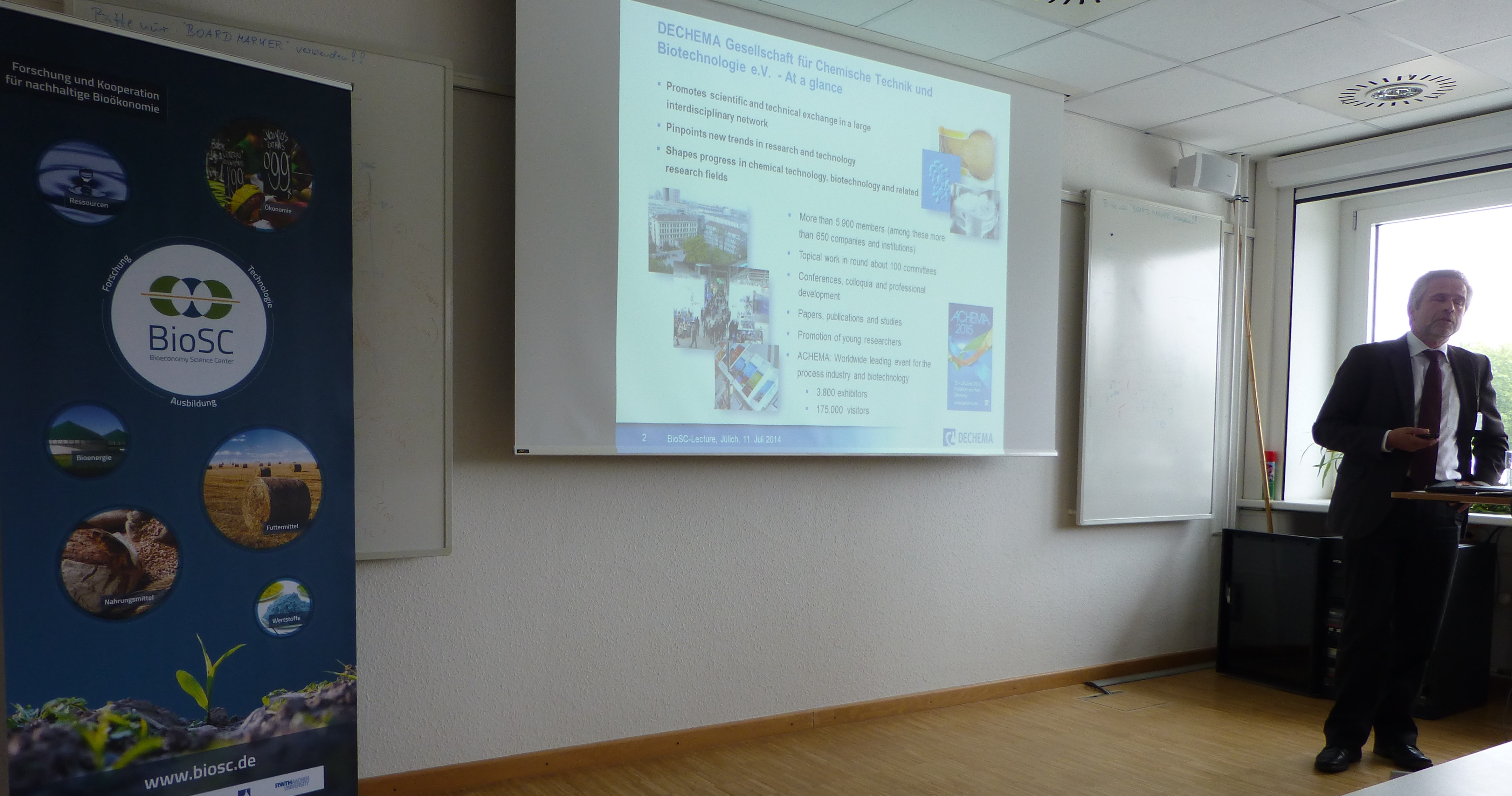 7. Januar 2014
RWTH Aachen
Bioeconomy in Europe: Challenges and perspectives in a globalized bioeconomy
Referent: Dr. Ludo Diels, VITO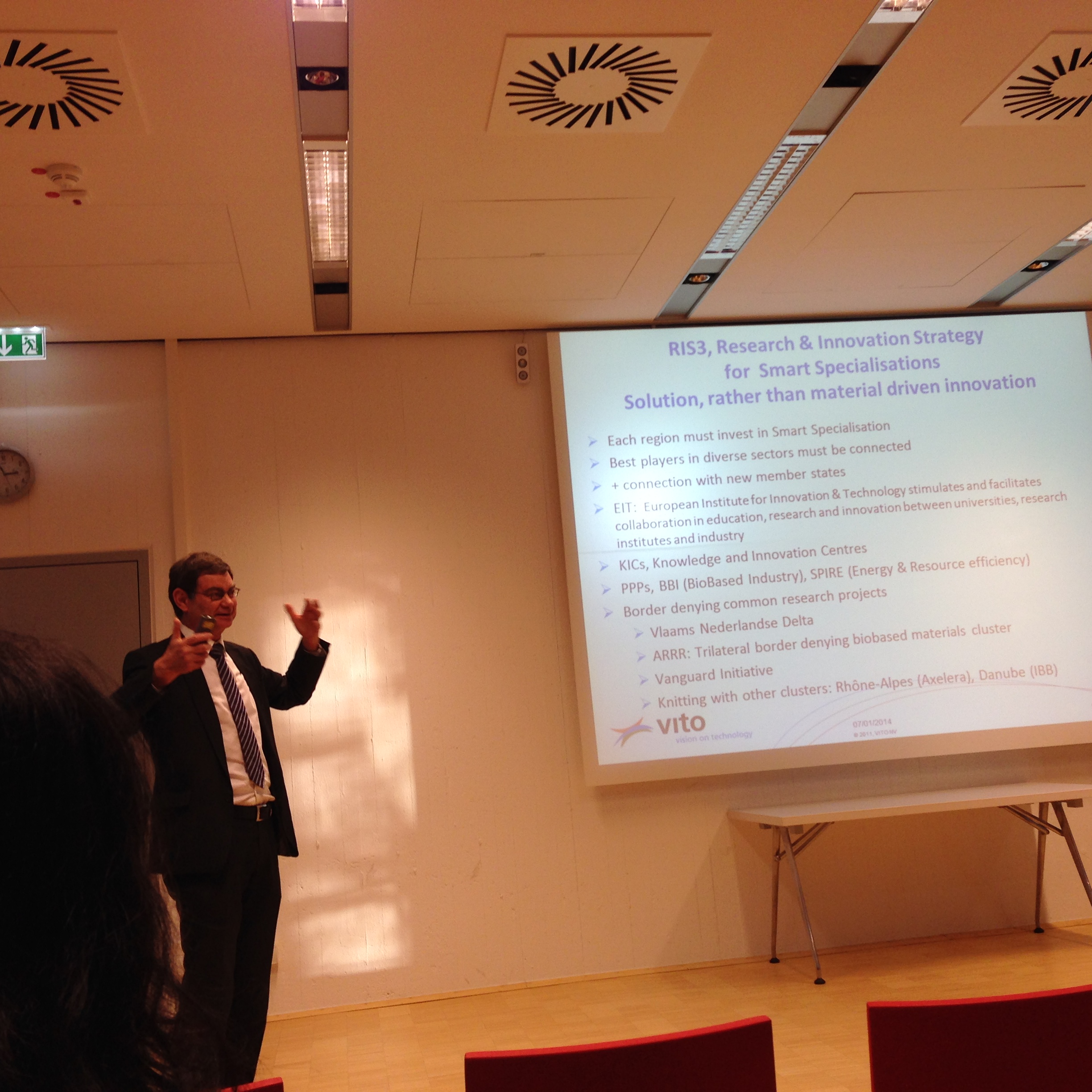 13. November 2013
Forschungszentrum Jülich
Economical perspectives and frame conditions for biomass usage in Europe.
Speaker: Michael Carus, Nova-Institut

28. Juni 2013
Forschungszentrum Jülich
Feeding 10 billion with less
Speaker: Prof. Mankombu Swaminathan, Prof. Joachim von Braun