The emergence of engineering biology, and its potential to address sustainable bioeconomy development, is associated with the rise of biofoundries. These are facilities that employ advanced automation and computational analytics to accelerate engineering biology applications. Yet, for biofoundries to fully achieve their promise as innovative bioeconomy intermediaries, they need to meet three key challenges of translation, sustainability, and responsibility. The roles currently undertaken by existing biofoundries in addressing these challenges are explored, with comparison to the roles undertaken by other contrasting types of bioeconomy innovation intermediaries: bio-incubators, bio scale-up facilities, and public science facilities. This assessment draws on web-content analysis (28 organizations across 12 countries) and validation interviews. Findings from this comparison are reported, with recommendations offered that could enhance the broader contributions of biofoundries to sustainable bioeconomies.
Philip Shapira is Professor of Innovation Management and Policy with the Manchester Institute for Innovation Research at the Alliance Manchester Business School, University of Manchester, UK, and a Professor of Public Policy at Georgia Institute of Technology, Atlanta, USA. He teaches and conducts research on science and innovation policy and management, emerging technologies and governance, regional innovation, and policy evaluation, and is a Management Board Member and Lead for Responsible Innovation with the UK Future Biomanufacturing Research Hub.
More information: https://pshapira.net/
Synthetic biologization of non-canonical atoms into the chemistry of living cells

September 23, 2022 | 10:40 pm | Jülich Biotech Day 2022

Dr. Pablo Nikel, Novo Nordisk Foundation Center for Biosustainability, Lyngby, Denmark

In the BioSC Lecture at the Jülich Biotech Day, Pablo Nikel from the Novo Nordisk Foundation Center for Biosustainability in Lyngby (Denmark) reported on his research on the microbial synthesis of fluorinated organic compounds, which play a major role in the pharmaceutical industry.
MicrobiomeSupport: Towards coordinated microbiome R&I activities in the food system to support (EU and) international bioeconomy goals
March 23, 2022 | 10:00 h | virtual

Dr. Tanja Kostic, Senior Research Engineer, Competence Unit Bioresources
AIT Austrian Insitute of Technology Gmbh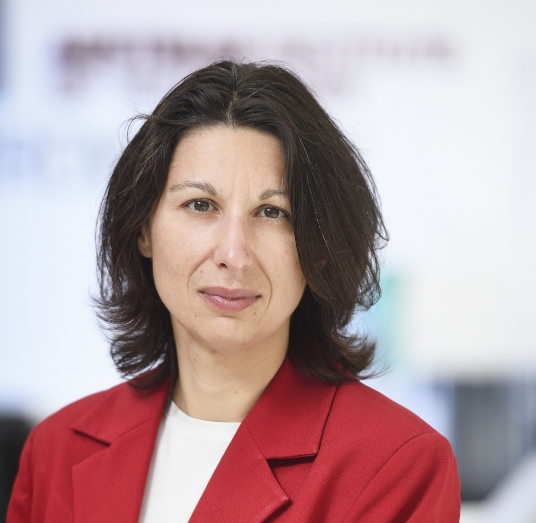 Photo: Private
Microbiomes have crucial roles in maintaining life on Earth, and their functions drive human, animal, plant and environmental health. The microbiome research landscape is developing rapidly and is performed in many different science fields using similar concepts but mostly one (eco)system at-a-time. Thus, we are only starting to unravel and understand the interconnectedness of microbiomes across the (eco)systems.
MicrobiomeSupport is an EU Coordination and Support Action, funded from November 2018 to October 2022. Its overall objective has been to analyse opportunities and barriers related to the microbiome R&I activities in the food system. The vision is to see microbiome products and applications in use that support the transition to a future-proof food system in line with Food2030 priorities. To achieve this, MicrobiomeSupport established an international network of experts and stakeholders in the microbiome food systems research field, uniting 27 partners from the EU, Argentina, Australia, Brazil, Canada, China, India, South Africa, and two associated partners from New Zealand and USA. MicrobiomeSupport partners act as national ambassadors ensuring continuous exchange between the project and national stakeholders. In addition, MicrobiomeSupport integrates numerous experts representing different stakeholder groups, i.e. the scientific community, industry, funding organisations and the policy sector.
Key outcomes include
- database containing information on microbiome activities, programmes and facilities along the food chain and beyond in the EU and worldwide
- recommendations for an internationally agreed microbiome definition, best practices and standards, as well as consistent protocols in research
- establishment of a dialogue between multiple stakeholders (i.e. representatives from science, industry, policy, funding and regulatory bodies)
- publications showcasing microbiomes potential and current hurdles for their full exploitation
- educational materials for the general public
Detailed information on the project and link to resources can found at www.microbiomesupport.eu or @MicrobiomeEU.