Aachener Zeitung
5. Februar 2014
Wie aus Gülle grüner Dünger werden könnte

Das stinkt doch überall zum Himmel! In Europa fallen jährlich 1,27 Milliarden Tonnen Gülle an. Damit ließen sich gut 500.000 Olympiaschwimmbecken füllen. Und es wird immer mehr Gülle, weil die Nachfrage nach Fleisch weltweit zunimmt, mehr Schweine und Rinder in großen Zuchtbetrieben gehalten werden und dort für mehr Exkremente sorgen. Doch wohin mit der ganzen Gülle?


mehr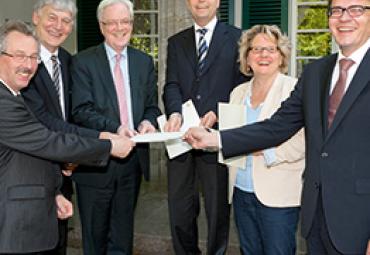 Pressemitteilung FZ Jülich
27. Mai 2013
Bund und NRW stärken gemeinsam die Bioökonomieforschung
Großer Erfolg für das Bioeconomy Science Center (BioSC), das von der RWTH Aachen, dem Forschungszentrum Jülich und den Universitäten Bonn und Düsseldorf getragene größte Forschungscluster für eine nachhaltige Bioökonomie in NRW: Es erhält mehr als 58 Mio. Euro, um in den nächsten 10 Jahren Wege zur integrierten Bioökonomie zu erforschen.
mehr
HHU Magazine

December 2015
From medicinal plant of the American Indians to reproducible raw material
The Plains Indians of North America smoked it, took extracts from it and chewed it like chewing gum: Silphium perfoliatum L., the "cup plant", as it is known by amateur gardeners. Barely acknowledged in its native country, German researchers are now discovering this plant anew as a real all-rounder.
mehr