Sustainable bioeconomy
The bioeconomy includes all economic sectors of production, processing and use of biological resources for the manufacture of food and feed, bio-based resources and bioenergy. As a knowledge-based bioeconomy, sustainable use of limited resources must be achieved and solutions for societal challenges such as adapting to climate change must be developed through integrated application of knowledge about biological resources and processes.
mehr
The Bioeconomy Science Center
The RWTH Aachen, the Heinrich Heine University in Düsseldorf, the Friedrich Wilhelms University in Bonn and the Jülich Research Center already have outstanding research activities in numerous theme areas of bioeconomy and hence create an excellent research landscape within a strong bioeconomy-oriented industrial environment in NRW.
mehr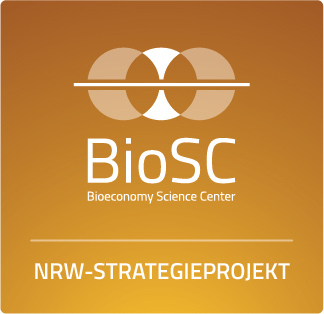 The NRW strategy project BioSC
With the NRW strategy project BioSC, the BioSC is receiving more than 58 million euros over three funding phases from the state of North Rhine-Westphalia to investigate means to achieving an integrated bioeconomy and to develop new bio-based technologies and products over the next ten years.
mehr