Analysing the innovation context of AP3: which industrial sectors and what type of enterprises play a role in the development of lignocellulosic biorefineries?
Projects such as the AP3 Focus lab (Fig. 1), which use lignocellulosic biomass for the purposes of biorefining, illustrate the complex reality that emerging sustainability-oriented technologies face. On the one hand, these technologies are a cornerstone in the development of the bio-based economy, unlocking the full utilisation of non-food-related biomass in marketable products, potentially substituting fossil-based materials, chemicals, and fuels. On the other hand, they are still in a formative stage: research activities focus mainly on experimentation and prototyping, funding comes through public agencies, profitability and demand are still highly uncertain. Moreover, the successful development of lignocellulosic biorefinery technologies would require knowledge from different sectors, but firms from these industries may lack the necessary capabilities to engage in the innovation.
As part of WP4, we analysed the innovation system surrounding the lignocellulosic biorefineries (LBs). We investigated the following questions: Which industry sectors are relevant for the development and diffusion of the LB technologies? What firms are already involved in the LB field and what is their role in the new value chain?
The use of marginal soils, new sources of biomass, and a new technological platform implies that new value chains can emerge, connecting hitherto separate industry sectors. A combination of scientific literature, patents on LB technologies, and nine semi-structured expert interviews allowed us to identify five relevant sectors: agriculture and forestry in the role of feedstock suppliers; the pulp and paper industry with the potential to integrate biorefinery technologies in its existing infrastructure; the chemical and energy sectors where biorefinery-derived products can find a market, and the biotechnology sector where entrepreneurs with a scientific background often develop new processing technologies or product applications.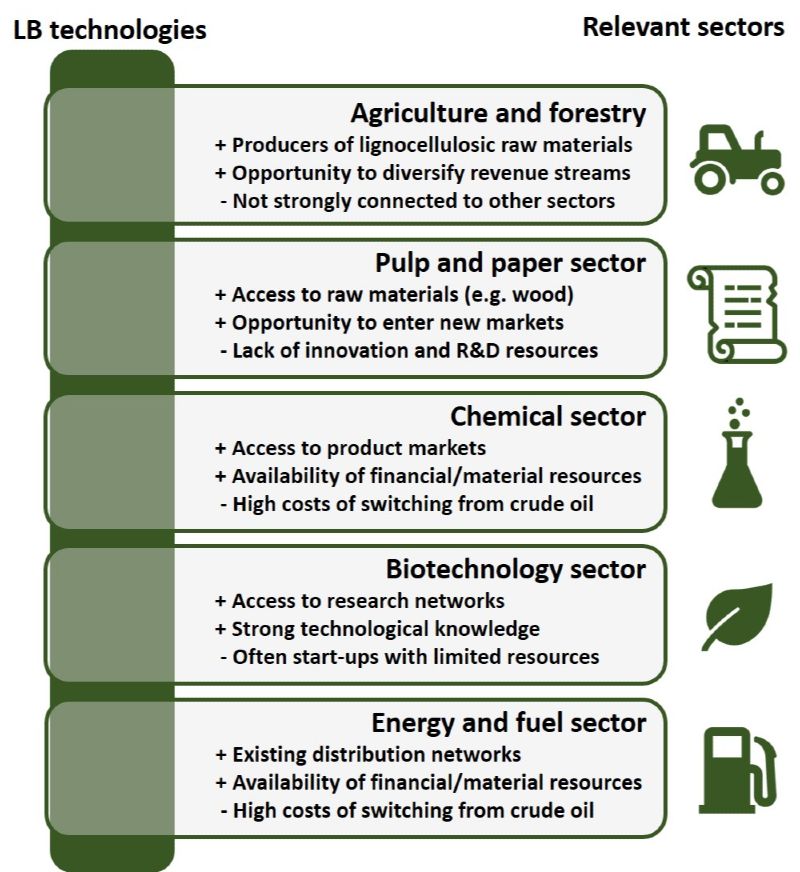 Fig. 3: Relevant sectors for the development of lignocellulosic biorefinery technologies.
Fig. 2 presents an overview of the five sectors and a brief summary of the opportunities and challenges that firms from these industries may face if they decide to participate in LB innovation. We interviewed nine representatives of companies, industry associations, and research centres from the five relevant sectors, with a particular focus on Germany. These in-depth interviews described the research environment in the country as facilitating, with well-developed networks of universities, commercialisation centres and funding bodies. What the LB technologies still need, however, are industry actors that can pull resources and invest in biorefinery facilities on a commercial scale. Additionally, the market for LB-derived products has been shaped by policies in the direction of biofuels (e.g., ethanol), but actors that develop new products (e.g., biochemicals, advanced materials) are of great importance. A lack of commercially attractive markets will constitute a significant barrier for the future development of LBs. Last but not least, technologies that rely on biomass utilisation must demonstrate sustainable, efficient use of all plant parts, waste streams, and by-products. In this context, lignocellulosic biorefineries need actors that develop, test, and commercialise processing technologies for different type of biomass – forest residues, agricultural waste, designated crops, etc. (Figure 3).
Even though LB technologies are still emerging in Europe and concretely Germany, we identified industry actors that are already filling the roles mentioned above: firms from established and mature sectors (in this case chemicals and pulp and paper) are already building commercial scale LBs. At the same time, innovative start-ups and SMEs (often spin-offs from universities) create technological and product variability.
Our findings provide the AP3 Focus lab partners with a typology of roles and actors that could be useful for assessing what is present and what is the needed in terms of potential industrial partners.